High performance

RFID handheld


terminal
Public Transportation | Ticketing | Access Control | Asset Tracking | Logistics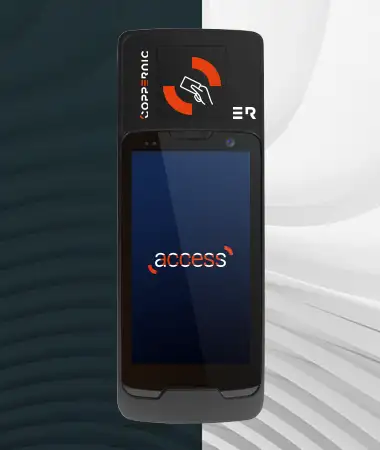 High performance RFID handheld terminal
Rugged, lightweight mobile device with Enhanced Read RFID capability
The Access-ER combines the attributes of a rugged Android mobile device with several high performance RFID reader options, to create a fit-for-purpose tool for multiple applications.
The Access-ER extends the family of Access terminals into new applications for
Public Transport ticketing, Smart Asset Tracking and mobile solutions for Physical Access Control systems.
'Best-of-breed' RFID module options from leading technology suppliers.
Extended chassis for high performance RFID reading (front/back).
Fully integrated, one-piece rugged solution.
Easy to handle with one hand.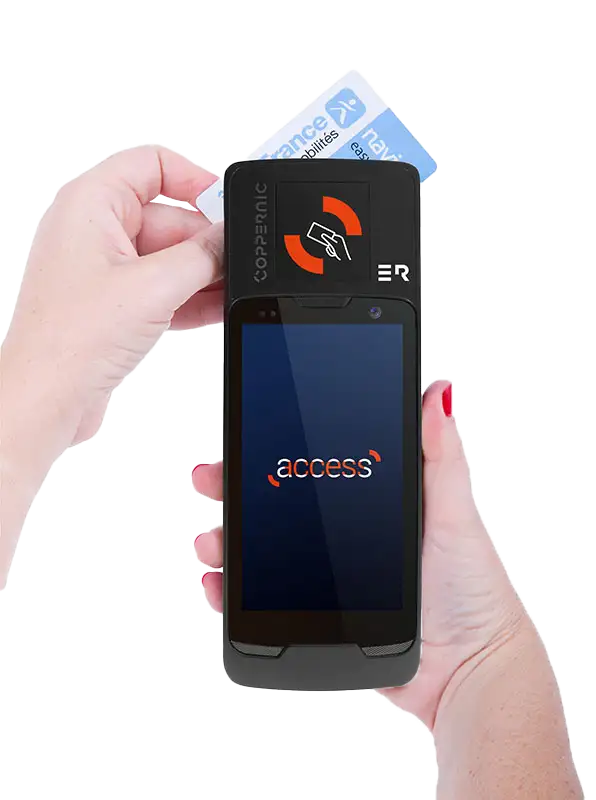 IDENTIFICATION MODULES
PERFORMANCE
TECHNICAL SPECIFICATIONS
WIRELESS COMMUNICATIONS
IDENTIFICATION MODULES
MODULES

• HF ASK Module (PARAGON ID UCM108)

• HF ASK RCTIF | CEN/TS Module (PARAGON ID UCM108)

• HF | LF | BT HID-CK Module (OMNIKEY 5127 CK-Mini)

• UHF CAEN RFID Module (Lepton3 RAIN RFID)

CAMERA
Front camera: 5MP | Rear camera: 13MP Autofocus
SECURE ELEMENT
P73N2MP (NFC IC) | SIM/USIM socket (SWP IF with NFC IC + ISO7816 IF with CPU)
BARCODE READER (OPTIONAL)
Honeywell N6603 2D Imager
PERFORMANCE
TECHNICAL SPECIFICATIONS
WIRELESS COMMUNICATIONS
IDENTIFICATION MODULES
PERFORMANCE
TECHNICAL SPECIFICATIONS
WIRELESS COMMUNICATIONS
IDENTIFICATION MODULES
MODULES

• HF ASK Module (PARAGON ID UCM108)

• HF ASK RCTIF | CEN/TS Module (PARAGON ID UCM108)

• HF | LF | BT HID-CK Module (OMNIKEY 5127 CK-Mini)

• UHF CAEN RFID Module (Lepton3 RAIN RFID)

CAMERA
Front camera: 5MP | Rear camera: 13MP Autofocus
SECURE ELEMENT
P73N2MP (NFC IC) | SIM/USIM socket (SWP IF with NFC IC + ISO7816 IF with CPU)
BARCODE READER (OPTIONAL)
Honeywell N6603 2D Imager
PERFORMANCE
TECHNICAL SPECIFICATIONS
WIRELESS COMMUNICATIONS