Mobile biometric

handheld terminal
Border Control | Law Enforcement | Military | Access Control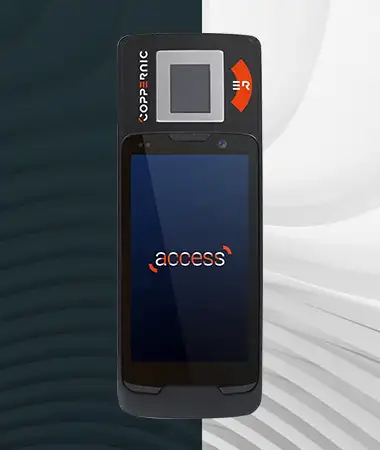 Mobile biometric handheld terminal
Rugged, lightweight mobile device with Fingerprint and Contactless Card Reading
The Access-ER combines the attributes of a rugged Android mobile device with a high performance FAP30 Fingerprint sensor and an optional iClass HF RFID reader module.

The Access-ER extends the family of Access terminals into new mobile solutions
for Biometric Identity and Physical Access Control applications.
'Best-of-breed' Fingerprint capture and RFID from leading technology suppliers.
Extended chassis for high performance RFID reading (front/back).
Fully integrated, one-piece rugged solution.
Easy to handle with one hand.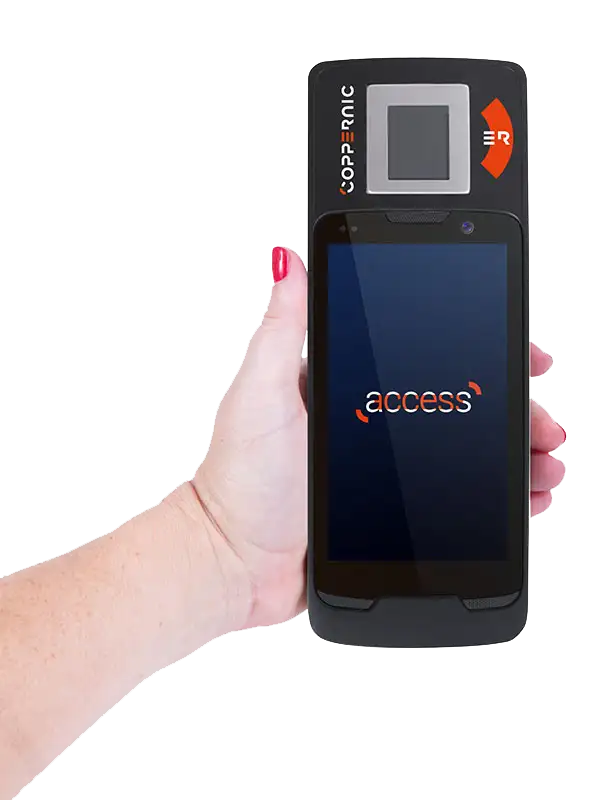 IDENTIFICATION MODULES
MODULES

HF NFC | FAP30 Module

Integrated Biometrics FAP30 'Danno' Fingerprint Module

NFC : NXP IC on board (NQ330 : PN553 + P73N2M0) Compliant with ISO14443 A/B and ISO15693

HF | LF | BT HID-RC | FAP30 Module (OMNIKEY 5127CK Reader Core) – OPTIONAL

Integrated Biometrics FAP30 'Danno' Fingerprint Module

CAMERA
Front: 5MP | Rear: 13MP Autofocus
SECURE ELEMENT
P73N2MP (NFC IC) | SIM/USIM socket (SWP IF with NFC IC + ISO7816 IF with CPU)
BARCODE READER
Honeywell N6603 2D Imager
PERFORMANCE
TECHNICAL CHARACTERISTICS
WIRELESS COMMUNICATIONS