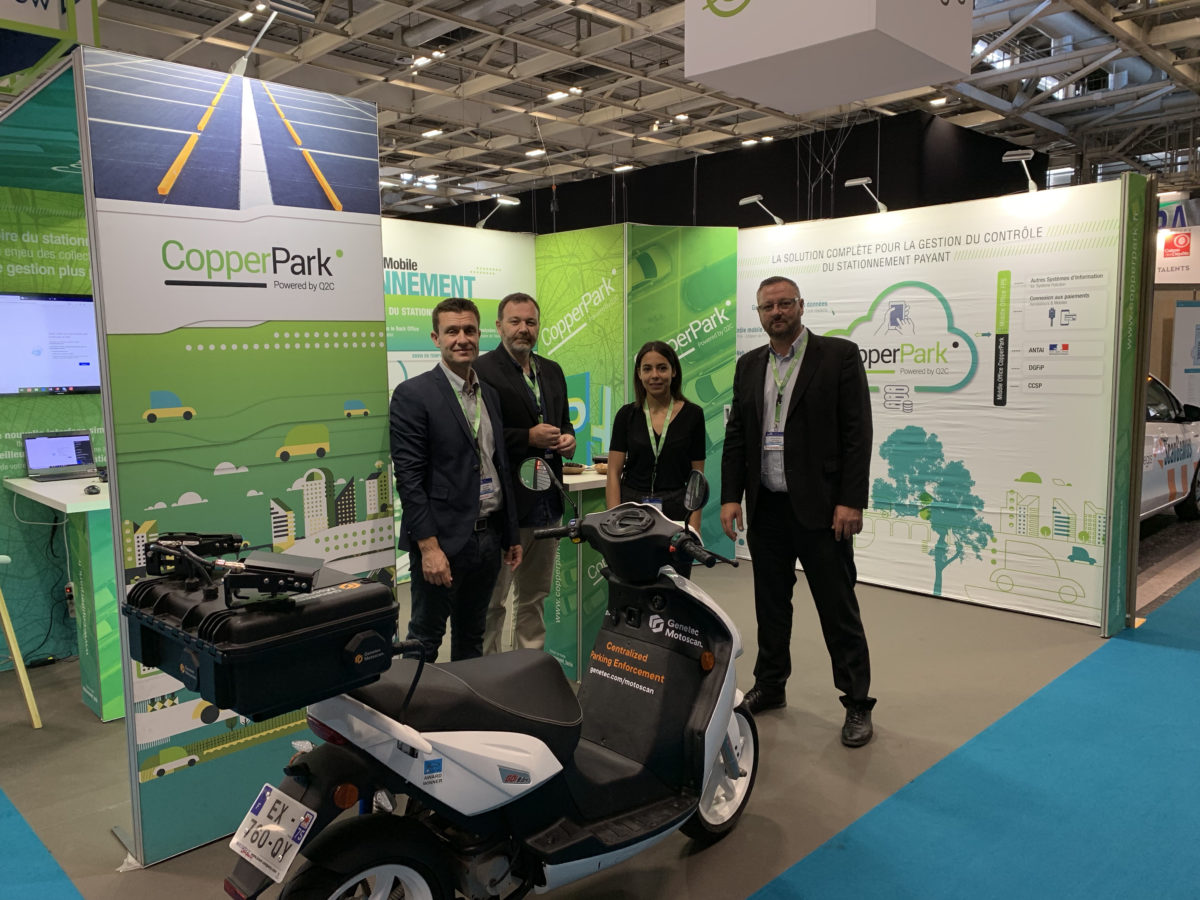 They were plenty of people, these Wednesday and Thursday, June 19 and 20, 2019 at the Parkopolis show. More than 2,500 professionals traveled to the 14th International Meeting on Parking and Mobility. Among them, Coppernic was holding its stand under the banner CopperPark in partnership with Genetec.
A year and a half after the entry into force of the new legislation on parking in municipalities, this show was an opportunity to make an initial assessment and highlight the new features of the CopperPark solution.
Indeed, after consolidating its installation in many cities directly with municipalities or with providers, CopperPark now offers an innovative management interface in addition to the implementation of the LAPI vehicle and hardware and software agents.
This new interface, dubbed "eAgent", will allow local communities to more precisely manage their parking policy and adapt it as best as possible according to the data collected by vehicles and field agents.
Fabien Lemel, Coppernic 's pre-sales manager and technical referent of the solution answered our questions: :
What can you say about Parkopolis 2019?
"It is indeed important to take stock of these past months, analyze what is important for on-street parking. Like everyone else, the start has not always been easy, and we are now happy to participate in this second edition of the Parkopolis Show.
We put on table everything that worked and did not work, what were the expectations of our customers, how to improve our lives and those of our partners.
Our experience today allows us to know exactly what the communities, the operators expect, more visibility and rapidity on the daily controls and because a city is in perpetual change, adapt us effectively."
Can you tell us a bit more about the eAgent solution and what were the first feedback during its presentation during the show?
"Control, back to our DNA such was our motivation! Inform, collect, make available data, capitalize on what works, still and always control. We wanted this solution to be evolutionary, simple and adaptive.
eAgent regroups all these features. We collect all field data in real time, occupancy rate, number of controls, FPS, per day, hour, minute, per zone, per street,… it is up to you, Cities, Communities, Delegates, to tell us what you want to do with this solution "
What are the next upcoming milestones for the CopperPark solution?
"Technically, several features have already been developed, and we are currently assembling these modules, such as:
GIS Manager, or Polygonal, which makes intelligent control based on map data of the city,
Parking Monitor, check in Post Parking Package Security Center,
Many other functions will soon complete the CopperPark solution.
Parkopolis allowed us to know if we had taken the right path by deciding to recast our solution and opening ourselves to the entire eco-system, and the answer is more than encouraging.
CopperPark started its Revolution, Coppernican history or simple adaptation, but a common orbit, communicate, exchange, share, collect, finally just our job. "