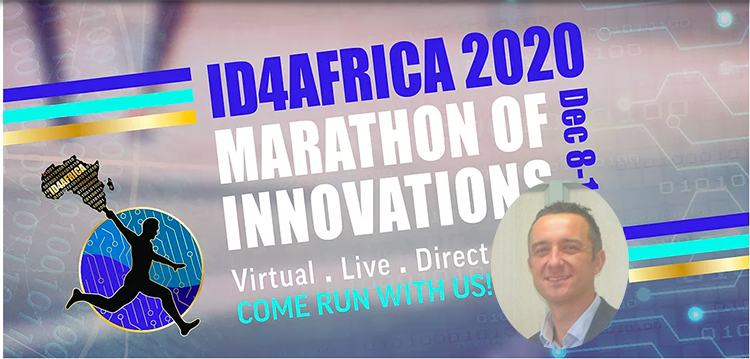 For several years, Coppernic has participated in the annual
ID4Africa fair
. This event consists of a forum and an exhibition focused on digital identity and its applications to drive socio-economic development in Africa. It is usually held in an African city for 3 days and was to take place this year in the city of Marrakech in Morocco.
Due to the health situation, ID4Africa 2020 finally took place virtually under the name of « Marathon of innovations ». The participants were therefore all distanced through the social network Whova.
It was a great first for all those involved in digital identity, which nevertheless allowed them to meet and present their products.
Coppernic participated in the show for the 3rd consecutive year and was able to show the evolution of its ID Platform FAP50 and its dedicated enrollment software thanks to a striking demonstration, which remained in the minds of all participants.
This real "game changer" allows its users to biometrically enroll citizens in less than two minutes thanks to its speed and ease of use.
Feedback on the ID4AFRICA 2020 edition
In order to find out more, we asked Marc Piepers, Deputy Managing Director of Coppernic to give us his impressions of this ID4Africa 2020 and the innovations of Coppernic in matter of Secure ID.
You participated in ID4Africa for the 3rd consecutive year. What are your thoughts on the event that was happening virtually because of the pandemic?
First of all, I would like to congratulate ID4Africa for offering this year a whole new experience with this virtual conference and this Marathons of Innovations.
It took a good dose of courage, perseverance and also a lot of work to mount an event of this magnitude and under such conditions.
For our part, we played the game to the max. We set up a stand in our showroom, just as if we were actually in a trade fair. In addition, we offered live demonstrations regularly and made ourselves available to virtual visitors. Now, nothing can replace real exchanges and we hope that this unique experience will remain… unique!
Your live showcase on Thursday, December 10 struck the minds with its originality… How does this ID Platform differ from what currently exists on the market?
As we did for our stand, we wanted to make a real demonstration. Bringing reality into a virtual salon seemed obvious to us. We categorically refused to settle for a PowerPoint presentation or pre-recorded video. One of Coppernic's missions is to travel those last few miles, to cover those last percent that few people want and can touch. Our laboratory is the field!
The ID Platform weighs less than 1 kilo and is up and running in less than a minute. In particular, it allows for very high quality enrollments in less than two minutes and offers almost unlimited autonomy. It is the reference tool for field missions, as well as for intermittent missions.
Will you participate to the 2021 edition?
Obviously! We are building a story with organizers, partners, prospects and "ID4Africa" clients. The design of the ID Platform in FAP50 format is based on the needs expressed by ID4Africa participants and we continue to listen in order to provide solutions that ultimately serve the population.
The coming year will see continued improvements in the ergonomics, software endowment and performance of our ID Platform. Our engineers are also working on the next generation. No doubt, we will still have a lot to say in the 2021 edition!
Thanks to Marc Piepers for his feedback and thanks again to the ID4Africa teams for the organization and holding of this virtually show this year. To find out more about our products dedicated to Secure ID
contact us !