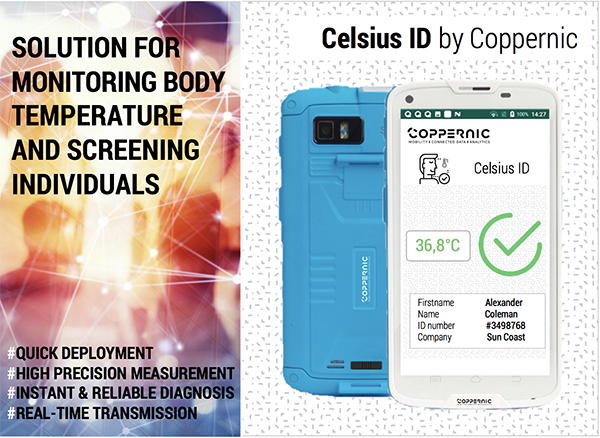 COPPERNIC UNVEILS ITS SOLUTION FOR MONITORING BODY TEMPERATURE AND SCREENING INDIVIDUALS TO SUPPORT HEALTH REQUIREMENTS RELATED TO DECONFINEMENT.
AIX-EN-PROVENCE, 13 May 2020 – Today Coppernic, a true expert integrator, specialist in complete control and traceability solutions, announces the launch of its Celsius ID solution.
In the context of the epidemic facing countries worldwide, Coppernic is strengthening its position as a major player in providing innovative solutions to assist companies and establishments with high traffic. Available immediately in France and throughout the world, this secure access control solution with body temperature measurement can be installed quickly, safely and efficiently thanks to its flexibility, mobility and versatility.
The Celsius ID solution provides reliable, fast and contactless capture of individuals' body temperature and key identity data. The portable terminal is equipped with a high-performance temperature sensor that ensures a high level of precision and reliability in measurement (+/0.2°C). The solution is able to read various types of identity documents, badges and wristbands equipped with QR codes, RFID chips, etc., and will support the deconfinement strategies of various densely populated locations thanks to its instant and reliable diagnosis.
Thanks to its ergonomic design, the Celsius ID allows for a simplified capture of information: one button for identity data, another to measure body temperature. With its integrated Wi-Fi and 4G wireless modems, the information is transmitted in real time.
The contact information of those detected as being "at risk" may be transmitted after encryption, in order to comply with the requirements for the protection of individual liberties, so that additional tests can be carried out to determine the source of their high temperature and so that appropriate measures can be taken to limit the chances of contamination.
Coppernic provides a global solution combining hardware, software, analysis and management of the collected data. The Celsius ID solution also includes a software application used by our mobile terminal to collect and transmit data (body temperature, identification of the individual being screened), as well as an IT infrastructure and the "CopperData" platform for storing, managing, consulting and analysing data: : www.coppernic.fr/en/prehome-analytics-en/copperdata-en/.
Coppernic has already received its first order of this hardware and software solution.
Demo Video Celsius ID
About Coppernic
Founded in 2008 in Aix-en-Provence, member of the "Pass French Tech" since 2016 and member of Bpifrance Excellence, Coppernic designs, produces and deploys professional-grade handheld devices for use with control and traceability applications which aid in the security of individuals, businesses and property. As an expert system integrator, Coppernic delivers complete turnkey solutions that use state-of-the-art hardware and software to analyze and manage collected data. Coppernic devices are useful in many domains, including elections that use biometrics to provide free and transparent results, mobile biometric registration of "under-identified" populations, authentication of persons for KYC, and On-Board Telematics or Industrial Traceability.
Contact Media