THE LATEST IN THE "MADE IN COPPERNIC" PDA RANGE: AN ULTRA-SECURE TERMINAL.
To download the
PRESS RELEASE
,
click here
To download the PRODUCT SHEET, click here.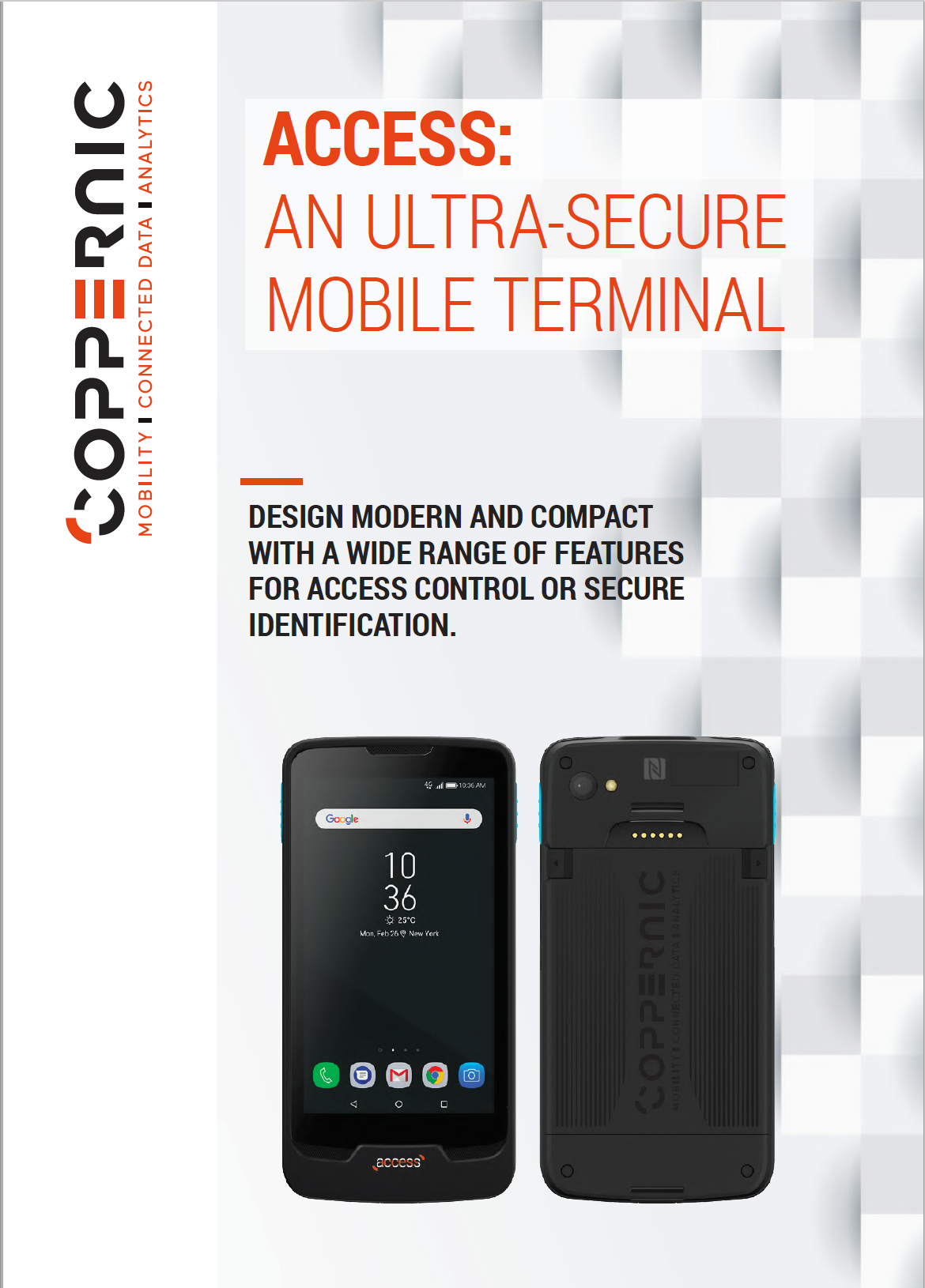 Aix-en-Provence, 8 July 2020 – Coppernic, the specialists in professional mobile terminals, today announced the launch of its brand-new multi-application mobile product: ACCESS.
The modern, compact design in this new "made by Coppernic" PDA incorporates a very wide range of features. ACCESS is a elegant, attractive and user-friendly device, designed for teams working in all conditions. Equipped with a 5-inch capacitive touch screen and weighing in at a featherweight 270 grams (battery included), this PDA is a big hit with users for its intuitive features. Designed for sectors such as access control or secure identification, ACCESS is a robust, configurable professional terminal, equipped with powerful technological components to guarantee excellent performances: OctaCore processor @ 2.2 GHz, Android 10 operating system, integrated GPS, 1D/2D imager, etc.
What's more, it includes a Secure Element providing security for data captured and/or transmitted towards the Host from start to finish. The Secure Element is a processor with an internal memory and advanced cryptography features, protected against both digital and physical intrusions. The component literally self-destructs when an attempted attack is detected. Secure Elements are today seen as impregnable. A SAM (Secure Access Module) adds to the high standards in data security.
"Pogo Pin" connectors at the back of the terminal give owners access to a whole host of possibilities to meet professional needs (RFID UHF module, iris sensor, temperature sensor, etc. )
ACCESS is an ideal PDA for all requirements linked to real-time identification of secure identity documents (identity checking, border control, etc.). It provides a great response to Identity Management issues with its NFC module, facial recognition via an in-built camera and an iris recognition option using an additional sensor.
The range of technical features in the new ACCESS terminal provide effective technological answers to issues in the mobile access control sector: hosting and protection of sensitive data, plus compatibility with the sector's main software solutions, including perfect interfacing with the leading Security Centres on the market.
About COPPERNIC
Founded in 2008 in Aix-en-Provence, and a member of Bpifrance Excellence since 2010 and "Pass French Tech" since 2016, Coppernic designs, produces and deploys professional mobile terminals for verification and traceability for the security of goods and people. As a true expert integrator, Coppernic offers its customers comprehensive technological solutions combining hardware, software, analysis and management of collected data. The wide product range, consisting of robust biometric PDAs and tablets, will meet all needs for the varied and essential tasks of setting up an effective, secure, inclusive and reliable digital identification system: complete registration of under-identifed and remote populations, biometric elections, KYC applications, etc. Coppernic supplies unique mobile terminals to numerous police forces all over the world for law enforcement, border control and immigration management. Find out more:
www.coppernic.fr.
Contact Media