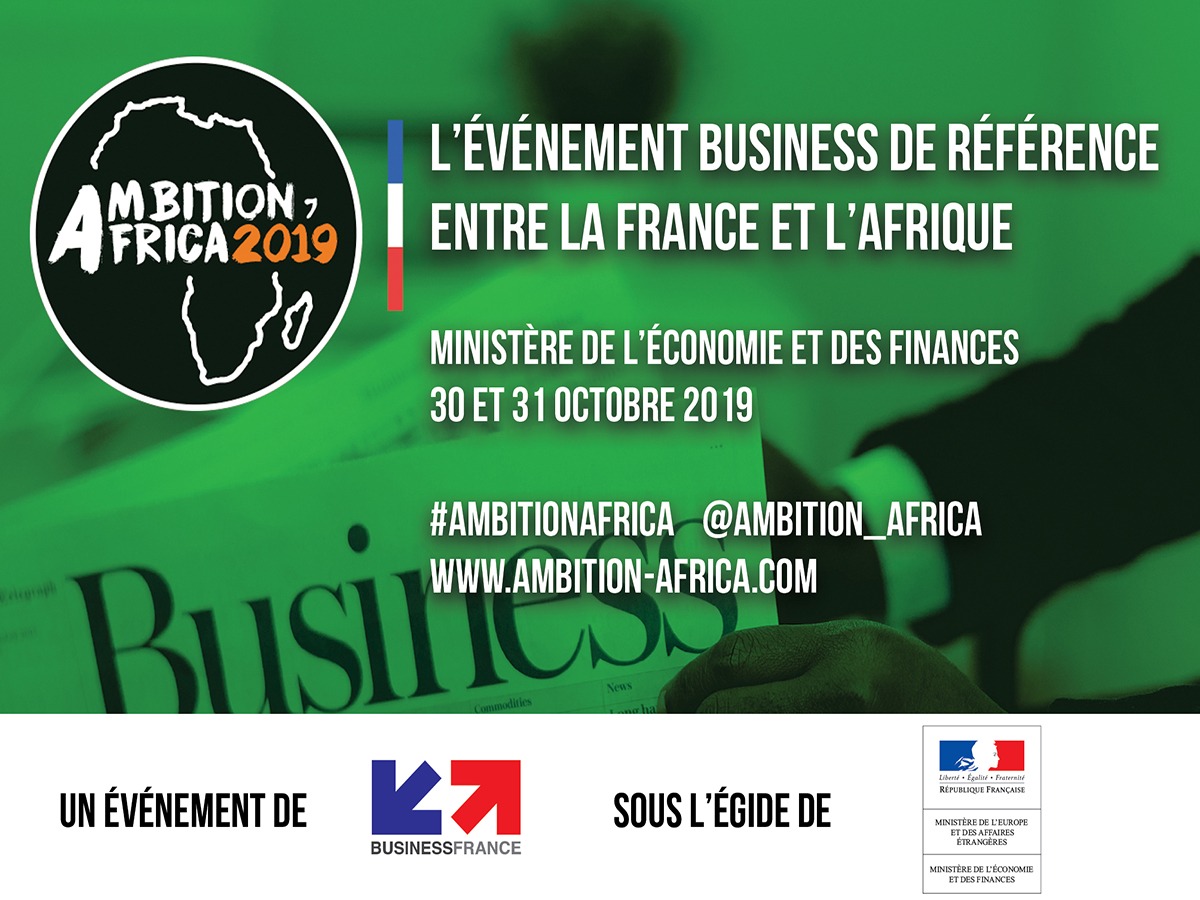 A benchmark business event
On October 30 and 31, COPPERNIC participated in the second edition of AMBITION AFRICA, organized by Business France in the premises of the Ministry of Economy and Finance in Bercy.
Created in 2018 on the initiative of the President of the Republic and the Government, it has become the benchmark business event between France and Africa.
Indeed, this year, nearly 1,500 people from France and Africa from the economic and political sectors participated actively in very fruitful exchanges.
Because of its knowledge of the African market and the potential that this market represents for the growth of the company, the management of COPPERNIC decided to be a full-fledged actor of this event and two of its members had the opportunity to participate in high-quality round tables attended by a very large audience.
On the first day, Jacky Lecuivre, President of COPPERNIC animated with five other business leaders at the "Doing Business in Africa" round table.
The second day, it was during the round table entitled "The digital revolution in Africa" that Marc Piepers, Technical Director and Deputy General Manager of COPPERNIC presented the interest of our products and solutions dedicated to secure ID to improve the formal registration of hundreds of millions of African citizens who today have no access to essential services because they cannot justify any legal identity.
The replays are available here:
Coppernic, in constant search of innovation
In this "Secure ID" sector, COPPERNIC has strengthened its position in recent months with its new ID Platform FAP50 tablet, a very innovative product whose characteristics have no equivalent on the market.
This compact, light product (980 grams), robust and equipped with all the peripherals necessary to achieve a full enrollment of an individual, was presented for the first time at the ID4AFRICA fair in June 2019 in Johannesburg and announced as a real " game changer "for the massive enrollment of populations during the inaugural speech of this event. It is equipped with a Five-0 biometric sensor which allows the capture of 10 fingerprints in three passes (4 + 4 + 2) and thus very significantly increases the productivity of the agents in charge of these campaigns, a capture device iris, a high resolution camera with autofocus and flash and it is powered by an interchangeable battery of very large capacity to offer an almost unlimited autonomy to these field operators.
This product and many others were on display at the booth that COPPERNIC had set up in the event lobby and attracted the attention of many participants.
Back on the event
Jacky Lecuivre, CEO of COPPERNIC, tells us about his feedback following his participation.
What conclusions can you draw from the Ambition Africa 2019 event ?
The results of this first participation of COPPERNIC are really excellent on several aspects:
The event was very well organized and the Business France team was remarkable before and during the two days. The website was very well done and allowed us to select and organize well in advance the meetings we wanted to have on our stand or in B2B sessions;
Varied and numerous assistance made up of representatives of companies, diplomatic services and major donors as well as African and French politicians. In short, a varied and high-quality panel that it is essential to meet to improve the reputation of an innovative SME like COPPERNIC;
The active participation in two round tables allowed us to present our arguments in front of full rooms and some of these arguments had to hit the target since our interventions aroused a lot of interest and subsequent visits to our stand.
Coppernic is very present this year in the Secure ID sector, thanks in particular to the launch of the FAP50 tablet, and in trade with Africa, with in particular the participation in these two major events, ID4AFRICA and Ambition Africa. What are the next deadlines for Coppernic?
Even though the format of these two events is different, they both give us the opportunity to promote our products, solutions, services and references to many interesting and interested people in one place and in a very short period of time. A real concentrate of promotion / commercial prospecting.
The next step which occupies us a lot at the moment is obviously to transform all these contacts into concrete actions so that the largest possible proportion of them generates real orders.
Ambition Africa was an event organized by Business France. What relationships does Coppernic have with this entity?
All facets of this new experience (*) with Business France will have been of high quality, whether:
The press conference that we hosted a few days before the event with Jean-Baptiste Lemoyne, State Secretary to the Minister of Europe and Foreign Affairs, Christophe Lecourtier, Director General of Business France and a few other speakers renowned;
The flawless support we received from the various Business France people involved in the event;
The extreme quality of the network that Business France succeeds in mobilizing for such an event and from which we take full advantage during these two days;
In short, a frank and massive success and an experience to repeat without hesitation !!!
(*) In October 2018, we had conducted a prospecting / consolidation mission in Kenya and Uganda, very well organized and orchestrated by Business France.