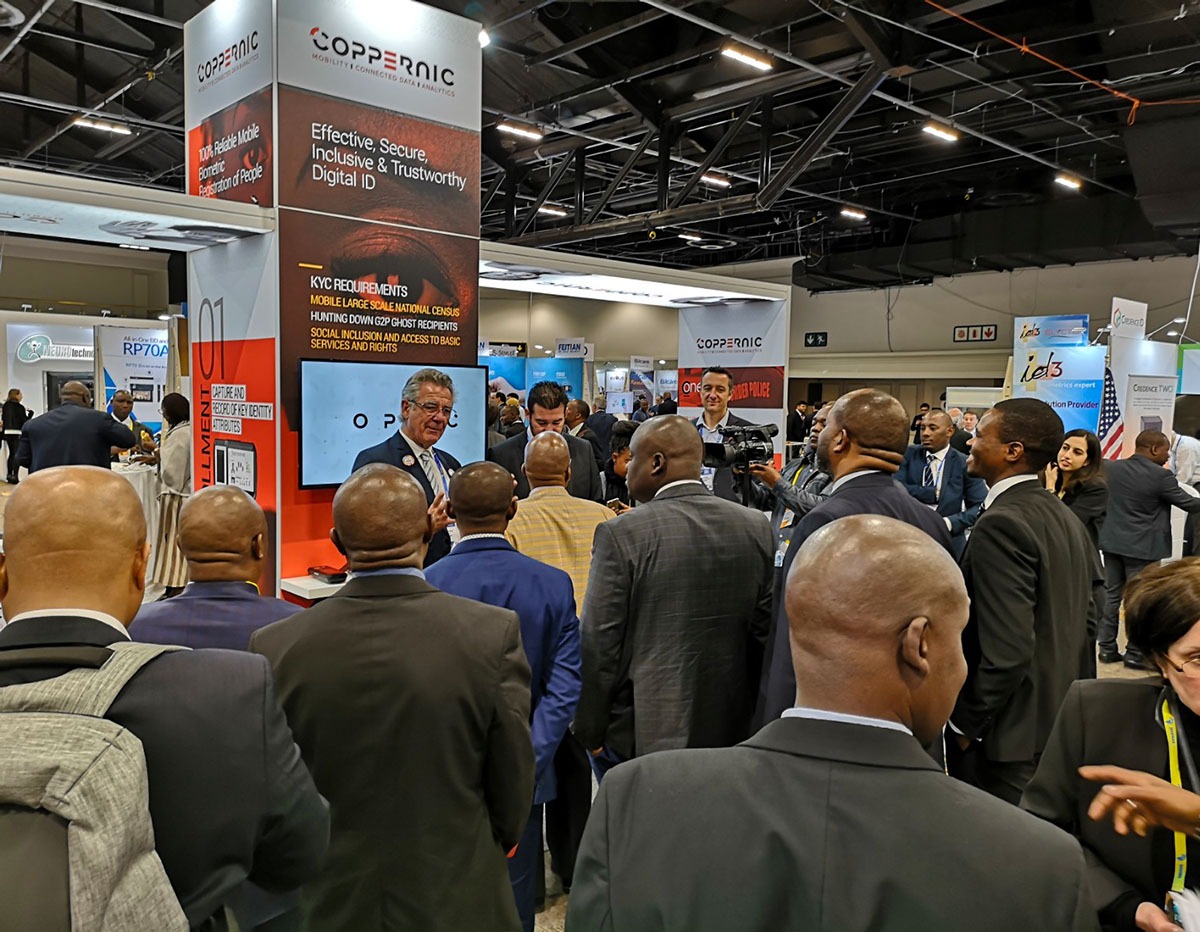 ID4AFRICA is an annual event that consists of a forum and an exhibition focused on the digital identity and its applications to drive socio-economic development in Africa. It is held every year in a different African country, which, as host of the event, hosts and regroups in the same place, the 4 main groups of intervention: :
Identification authorities and their users
International development agencies
Service providers
The experts
The 5th edition of this event took place from 18 to 20 June 2019 in Johannesburg.
It is in this context that Coppernic, company specializing in the supply of products and solutions dedicated to Digital Identity and KYC (Know Your Customer), participated to this show for the second year in a row after the 2018 edition which took place in Nigeria.
With this first experience, Coppernic arrived in the Rainbow nation with a lot of ambition and decided to widen its footprint by reserving a stand twice as big as in 2018. This, to present in the best possible conditions its range of biometric products and solutions and its brand new ID Platform FAP50 tablet, a real "game changer" able to provide a very powerful and innovative answer during the vast campaigns of biometric enrollment of the indispensable populations in many African countries.
For projects in which "end-to-end" biometrics must be used (registration and verification), Coppernic offers its brand new ID Platform FAP50 tablet capable to capture and record main identity attributes of individuals (enrollment phase) and other high performance biometric products to perform the verification process (1: 1 comparison).
Back on the event
Jacky Lecuivre, CEO of Coppernic was present on the event and shares his ambitions for Coppernic due to the participation of this year's fair.
What results can you draw from this edition of ID4AFRICA 2019 ?
Undoubtedly, ID4AFRICA 2019 will be considered as an excellent vintage for this event which is becoming the reference in the field of exhibitions / forums dedicated to the digital IDentity. This year, the stands were much more beautiful and more numerous than in previous years. Many companies (including Coppernic) had taken special care to adapt the graphics and messages displayed on their stands to the specificity of this event. At the business level, the results of this vintage 2019 are excellent with many visitors who have spent time on our stand and have sometimes returned several times. Some / many of them carried real projects for which our products and solutions are perfectly adapted and appreciated.
How does the Platform ID FAP50 differ from the Standard Platform ID ?
By its unique ability to integrate: :
a fingerprint scanner FAP50 able to read 4 fingerprints at a time and to increase significantly the productivity of the field enrollment agents by capturing 10 fingerprints in 3 passes (4 + 4 + 2) instead of 10. In addition, this scanner uses an LES (Light Emitting Sensor) technology that generates very high quality images, even for old and / or damaged fingers, which is essential to ensure the quality of the information provided to the digital identity databases ;
Infrared cameras to capture and recognize irises ;
A 13 MPixels autofocus camera with flash to generate portraits in ICAO format ;
A removable battery of 12 000 mAh which allows an intensive use for more than 20 hours … and much more thanks to additional battery packs ;
Moreover, the captured data will be stored and / or transferred to a central server in an entirely secure way thanks to the encryption keys programmed in the "Secure Element" integrated on the motherboard of the tablet.
Thanks to its robustness, its ergonomics, its low energy consumption, its ability to operate outdoors in extreme temperatures, its low weight (980 grams) and its much lower price than the standard large enrollment bags, this Tablet ID Platform FAP50 will bring comfort, productivity and work efficiency in challenging environments that will be highly appreciated by the field enlistment teams. A true Coppernican Revolution !!!
What welcome did this product receive during its presentation on the stand ?
EXCELLENT.
At the inauguration of the event, Mr. Joseph Atick, Executive Chairman of ID4AFRICA came to our stand with a large delegation of African Ministers chaired by Mr. Aaron Motsoaledi, Minister of Home Affairs of South Africa. He then introduced our new ID Platform FAP50 product as a "game changer" for all future biometric enrollment campaigns that will have to be completed in many African countries to meet the requirements of Goal 16.9 of Sustainable Development Goals. "(SDGs) established by United Nations Member States and adopted by the UN in September 2015 and titled:" Peace, Justice and Strong Institutions ". It provides that by 2030, all states will have to provide all their nationals a legal identity with birth registration.
What are Coppernic's upcoming projects in this sector of enlistment ?
You will easily understand that I do not want to answer this question because I think and I hope that our competitors will read this section and I do not necessarily want to tell them the details of future projects they do not know.